Islamorada Marina Services
Tavernier Creek Marina offers five large barns accommodating boats up to a maximum overall length of 36' and a maximum weight of 12,000 lbs.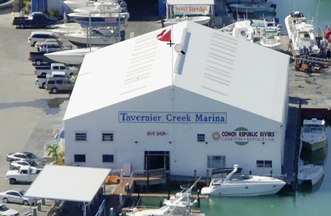 Barn 1
The only plain white building contains the Marina Office, the dockmaster's office, and the marina restrooms and showers.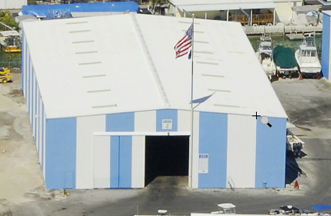 Barn 2
Stores the smaller boats, up to 25 feet, with a beam no more than 8'6".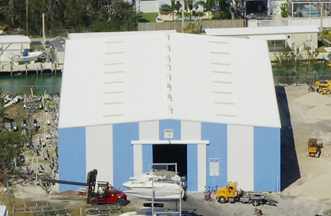 Barn 3
Stores small to medium length boats, between 25 – 28 feet in length, with t-tops.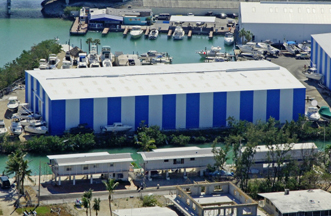 Barn 4
Takes the largest rackable boats; up to 32 feet, with a beam of up to 9′.

Barn 5
Any boats that have arches, towers, or a beam over 9 feet will go here, where all boats sit on their own individual racks on ground level. Boats in Barn 5 require 24 hours' notice for launch.
We are open 8:00 am to 5:00 pm, seven days a week. We close for lunch between 12:00 noon and 1:00 pm, year-round. We ask that you call us one hour prior to your arrival.
With the exception of Barn 5 boats, customers who wish to use their boat during nonoperational hours should request a late launch by 3:00 PM.
Barn 5 customers who wish to have their boats placed in the water should call one day in advance. This will allow us ample time to prepare your boat.
Wet-slip customers may access their boat anytime.
Wet slips are available on a first-come, first-served basis free of charge to our storage customers. If you want to reserve one, the rate will be $50 per night.
We are closed on Thanksgiving Day, Christmas Day, and New Year's Day; however, just call by 3 p.m. the day before, and we will put your boat in the water at the end of the day, so you can still use your boat on these holidays.
We have 21 after hour wet slips available for docking. These spaces are available on a first-come, first-served basis. If you are going to use your boat a few days in a row, you can simply pull into any unreserved slip.
Work racks are available for our customers' use to wash their boats, flush engines, and to do minor repair work. Customers can bring in outside mechanics to work on their boats, but the mechanic must provide proof of insurance to the Marina Office, sign in with the office each time, and follow Clean Marina standards.
Trailer storage is also available on a limited basis.